From the product's inception, we had ambitions of changing the industry with ZEEL™, the latest addition to our frame offering. Since ODL began manufacturing injection molded frames in the 1970s, we have immersed ourselves in research and feedback on their performance, look, and ease of use—the good and the bad. Every aspect of ZEEL was researched, designed, engineered, and built to provide a solution for common challenges that our colleagues and partners face, and to present a new vision of what a doorglass frame should be. Here are four ways we're changing the game with ZEEL:
The sleek and minimal look blends seamlessly into any design.
The first feature that sets ZEEL apart is also its most apparent—its look. This sleek, flat frame has an extremely low profile, standing only a quarter of an inch above the surface of the door. It effectively disappears into the door, allowing the doorglass to take center stage. ZEEL is perfect for modern styles, eliminating the incongruity of frames with traditional design elements in a contemporary entryway, but blends seamlessly into any design and matches any doorglass.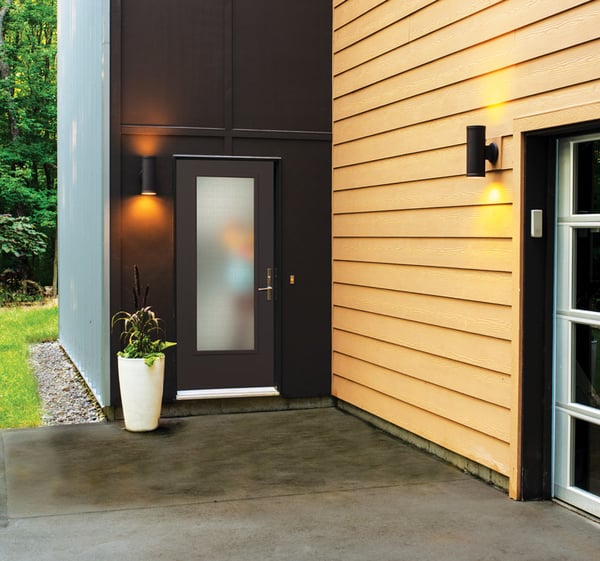 The light fir texture of the frame likewise helps it integrate into both smooth and wood grain-textured steel and fiberglass doors. The minute ridges mimic wood when stained and provide an ideal surface for painting that appears smooth after paint application.

These aesthetic features of the frame make it an ideal alternative to flush glazed doors, as it provides the same clean look. At the same time, you gain all the advantages of a frame system—more door configuration options, better inventory management, and lower cost of replacement in case of breaks or warranty issues.
The new material exceeds performance expectations in extreme environments.
On a more technical note, one of ZEEL's biggest innovations is the material out of which it's made. FiberMate Plus™, our strongest material yet, is made of a proprietary PC/ABS blend and surpasses the performance of all other tested materials in extreme conditions.

The creation and testing of FiberMate Plus took a significant amount of time at the beginning of ZEEL's development. Our goal was to create a material that was robust enough to withstand both extreme heat and cold while remaining flexible enough to pass our rigorous door slam testing. The result exceeded our expectations, resisting scalloping and corner flare in situations wherein other frames would be prone to warping, such as prolonged exposure to direct sunlight or being painted trendy dark colors.
Industry-leading Resolve® sealant provides a consistent seal over time.
Unlike FiberMate Plus, our Resolve sealant is not new to ZEEL, or even to our frame offering. It's worth mentioning again, however, because it contributes to ZEEL's outstanding performance in even the most extreme environments. This clean thermoset foam seal is integrated directly into a groove that has been carefully engineered for top performance. Unlike wet glaze seals, Resolve is immune to squeeze-out and doesn't degrade over time, reducing service calls and warranty issues.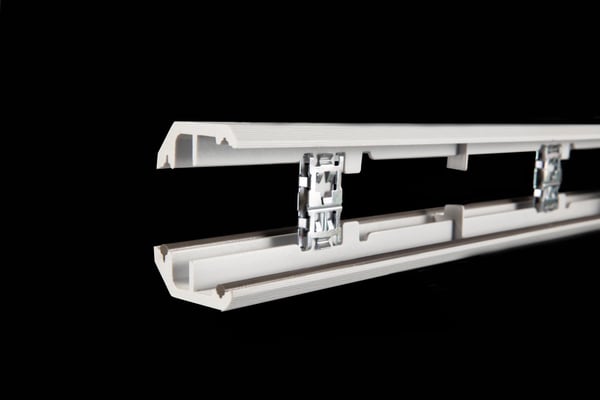 All of our frames that use Resolve sealant benefit from the same features—what's unique to ZEEL is the manufacturing process itself. The sealant is applied only to the outer frame, but eagle-eyed viewers of the above picture may notice the same sealant grooves present on the inner frame as well. Both the inner and the outer frames are produced from the same injection molding die—a first for ODL—and are only distinguished by application of Resolve sealant. This piece of trivia translates to greater manufacturing efficiency, and therefore cost efficiency, keeping the price of this innovative and high-performing frame affordable.
The innovative clip system eliminates the need for screws.
Say goodbye to screws and screw hole covers. ZEEL's new clip system locks the IG into place with a series of tabs and clips. Not only does this improve the look of the frame, but also streamlines installation with a much faster process.
In addition to solving the headaches that come with a traditional screw frame, the new clip system also eliminates the frustrations of older, locking clip systems. ZEEL's clips can lock into the final assembly tabs at any point past a depth of ¼", allowing the frame to sit flush to a 1 ¾" door around the entire perimeter. This helps to account for door surfaces that are not perfectly level and allows each door to maintain a perfect seal.

Like the frame itself, this new system is designed to be unobtrusive, but mighty. If you haven't already, learn more about how it works by becoming a Certified ZEEL Installer.

ZEEL was created as a solution to common and frustrating problems faced by our industry every day. From its unparalleled versatility to superior performance, we see ZEEL becoming the new standard for doorglass frames and changing the way we think about door systems. So, what do you think—did we succeed? Try ZEEL for yourself by getting certified and ordering today.