Architects hold a valuable place in the building materials industry, and it's important that their work is acknowledged and celebrated. They are responsible for designing new construction and design projects, and have high-level knowledge and skills to create buildings that are functional, beautiful, and sustainable. They have influenced residential home design throughout the history of the United States, and continue to push the boundaries of how homes can add value to our communities.
Download the infographic for a brief timeline and keep reading for a few examples!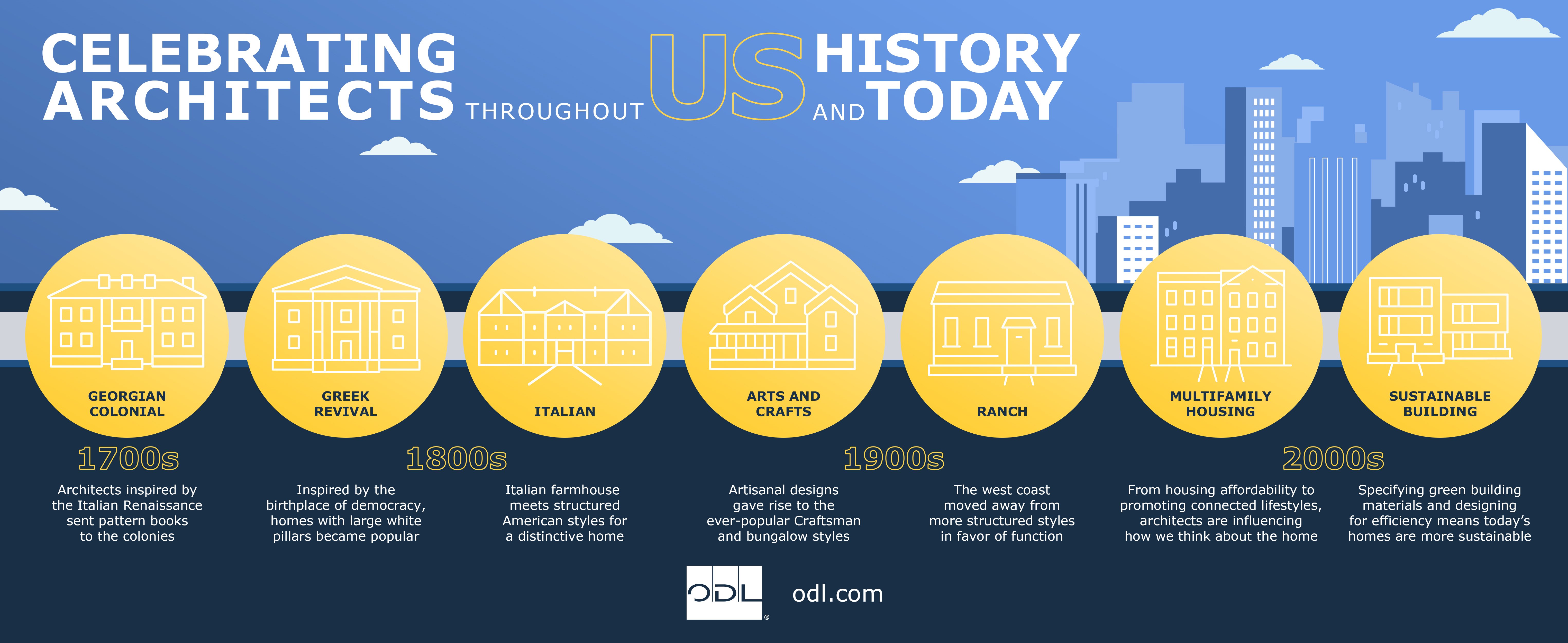 Click to download
1700s
Georgian Colonial
Georgian colonials were popularized in the American colonies due to architectural construction manuals called pattern books. English architects such as Inigo Jones, Christopher Wren, and James Gibbs were inspired by the classicism of the Italian Renaissance and popularized the Georgian style, which was then adopted by wealthy tobacco planters in the south.
1800s
Greek Revival
The Greek Revival style flourished in the young United States of America due to an admiration of ancient Greece's democratic values. However, it was a British architect, James "Athenian" Stuart, who introduced striking white columns and other Greek-inspired decorative back into architectural design.
Italian
The Italian style, when it came to the United States, was quickly transformed in the mid-1800s into something uniquely American, taking inspiration from the farmhouses of Italy and blending them with the structure of Gothic and Colonial homes. Alexander Jackson Davis's Blandwood in Greensboro, North Carolina, is one of the earliest examples of the style.
1900s
Arts and Crafts
A social movement touted by William Morris, a British designer, Arts and Crafts valued the handmade and artisanal in direct opposition to industrialization. This gave rise to architectural styles including Craftsman and bungalow, which prioritize thoughtful and understated design and are hugely popular to this day.
Ranch
Originally based on Spanish colonial architecture in the southwest, California Ranch-style homes are credited to Cliff May, who wanted to design outside of the stricter styles present on the east side of the country. Due to its origins, the Ranch style favored single story homes that maximized space with simple floor plans and large windows.

Today
Multifamily Housing
From apartments that aim to maximize housing availability in urban areas to lifestyle-driven suburban developments, architects are helping to shape how people in the United States live in their homes, communities, and cities.
Sustainable Building
In addition to designing how a home will look and function, architects today also define or influence how long that home will last, how much of an impact its construction has on the environment, and how it can promote more sustainable living through the building materials they choose and how they take environmental factors into account.
A great architect can take a vision and turn it into reality with plans and designs that represent more than just the appearance of a building. As we reflect on our experiences at the AIA Conference in late June, we'd like to recognize architects for their impact. Thank you!