When we started designing and selling enclosed blinds 20 years ago, we knew we had a winning product. Blinds sealed between two panes of glass never got dusty or bent out of shape, and they let homeowners control their privacy and light levels. True to our values, however, we didn't want to rest on any laurels or stagnate with our blind offering. We've been doing a lot of exciting work with blinds between glass that you may not know about, and today, we're putting the spotlight on Blink® Blinds + Glass, an innovative solution where we're pushing our enclosed blinds to be the best they can be.
Blink Blinds + Glass
Blink products offer a modern alternative to traditional blinds with blinds between glass for windows, sliding patio doors and more. Supplying insulated glass (IG) units for windows can be challenging, as unlike doors, windows don't have standard sizes and are usually specified based on the needs of the project. As a result, we made sure that Blink Blinds + Glass would be highly adaptable and responsive to our customers' needs. With six colors to choose from and configurable options for operation and window styles, as well as a flexible manufacturing process that allows for custom sizes and minimum order quantity of one unit, Blink enclosed blinds are tailor-made for each project and home.
Here are a few of the ways that Blink products stand out:
Timeless Design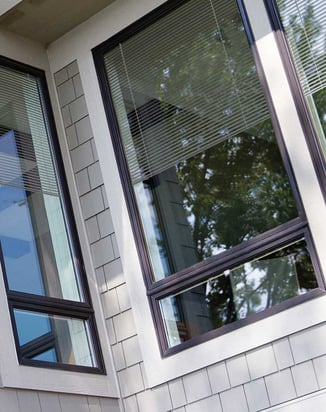 Not only do our internal blinds offer a safe, easy-to-use window treatment solution, they're beautiful, too. Blink blinds complement the home and decor, creating a seamless look. We offer six different colors of built-in blinds, including classic white, Silver Moon, and a rich Espresso, so you can customize our inserts to complement any architectural or decorating style.
Blink's IGs work seamlessly in windows and sliding patio doors. We can include our raise/lower/tilt (RLT), tilt, and raise/lower/tilt (RLT-Top) blinds in many window styles, including:
Single and double, casement windows
Awning and hopper windows
Picture windows
Single and double-hung windows
Pivot windows
Low Minimum Orders and Quick Turnaround Times
With variable window sizes from project to project, or even within the same home, flexibility is key. That's why we made it possible to order a single unit, if that's what you need.
Blink also offers quick turnaround times for custom orders. We typically ship Blink IG panels within eight working days, although tempered glass panels may require more time. For more information, check out our program options.
Durable Construction
A home is only as protected from the elements as its components, which is why we take so much care to design our products to last. With over 20 years of experience building blinds between glass, we stand behind our products. We offer a 10-year full warranty with all our Blink products.
Energy Efficient
Blink blinds between glass offer excellent energy efficiency ratings through Energy Star®, National Green Building Standard, and the National Fenestration Rating Council. We also subject our Blink products to the highest level of weather cycle testing to ensure the efficacy of our products and keep moisture and humidity out.
Low Maintenance and Safe for Kids and Pets

Blink cordless blinds are sealed between two panes of glass so there's no hassle of tangled cords, allergens, or damaged blinds to worry about. They're also easy to use. Unlike traditional blinds, Blink cordless blinds are ergonomic. Raise and lower the blinds the entire length of the door glass with just a fingertip, and adjust for light and privacy by tilting the slats a full 180° with the slightest touch.
Furthermore, cords, blinds, and other components in traditional window coverings can pose a risk for curious young children and pets. In a study by the American Academy of Pediatrics, over 16,000 children under the age of 6 were injured by blinds, most frequently being struck by or getting their necks tangled in cords. Enclosing them in glass removes unnecessary hazards from the home environment. Blink products have received the Parents for Window Blind Safety (PFWBS) Seal of Approval, and the Window Covering Manufacturers Association (WCMA) Best for Kids certificate.
A Complete Blinds Between Glass Package
Now, in addition to our window and sliding patio door capabilities, we're excited to bring all the innovation of Blink to entry doors such as hinged patio doors and French doors.
With the addition of Blink Entry Doorglass, there's a light and privacy control solution for every window and exterior door in a home. Our complete package of reliable and long-lasting products gives projects a polished and consistent look from inside and out.
RELATED: Glass Front Door Privacy: Tips and Tricks
ODL has over 70 years of experience in the insulated glass industry, and 20 years of perfecting blinds between glass for doors. Blink was a natural next step in developing our product portfolio. We're proud of our intuitive line of blinds between glass and even more excited about connecting passionate professionals with the solutions they've been looking for.
References
Chounthirath, T., Hodges, N., Kim E. H., Onders, B., Smith G. (2018, January). Pediatric Injuries Related to Window Blinds, Shades, and Cords. American Academy of Pediatrics. Recovered from https://pediatrics.aappublications.org/content/pediatrics/141/1/e20172359.full.pdf