The International Builders' Show (IBS) had a triumphant return to an in-person tradeshow experience this year. Located at the Orange County Convention Center in Orlando, Florida, attendees and exhibitors enjoyed the opportunity to get together, share their professional experiences over the last two years, make connections and strut their stuff. On top of the daily goings-on of a show, however, many attendees (us included) typically find IBS to be a treasure trove of industry insights and trends. This year was no exception, and we've put together an infographic on what we thought were the best take-aways.
Click here to download the infographic, and keep reading for more on IBS 2022's biggest trends.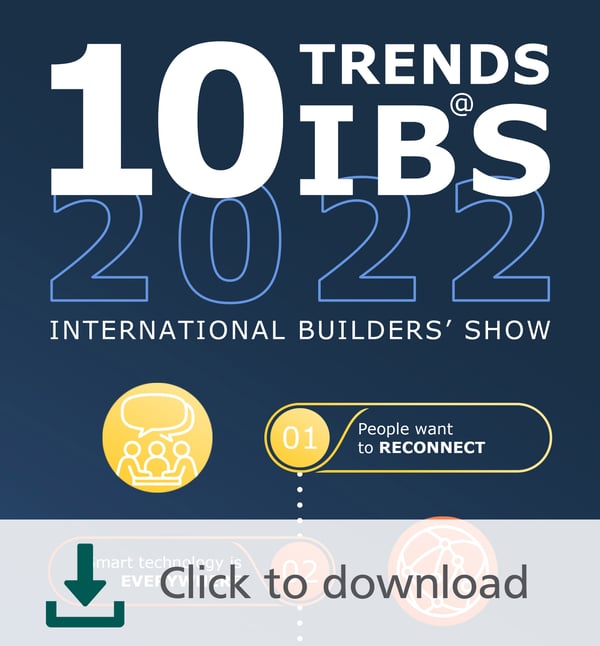 1. People want to reconnect

The lead-up to this year's International Builders' Show was rocky, to say the least. With the Omicron variant of COVID-19 peaking throughout the country in January, many exhibitors and attendees were nervous about what was going to happen with the event. Despite uncertainty, the show was well attended, with over 70,000 professionals coming together in Orlando.
2. Smart technology is everywhere

Technology wasn't just limited to the products on display, but also in the way that companies are going to market. This included selling tools, leveraging big data, and creating new customer experiences using VR and AR technologies.
There were 34 booths in a dedicated Home Technology Pavilion, and even more service providers and smart products throughout the show.
3. A mixture of textures & colors

In keeping with the rise of maximalism in home design, we saw materials, colors, finishes and textures being mixed together in staged kitchens, bathrooms and living spaces. Metals no longer need to coordinate, and wood tones no longer need to match.
4. A focus on the next generation

Many conversations centered around a multi-generational approach to home building. Mollie Carmichael, Principal at Zonda, observed, "Millennials are finally buying homes in a big way all over the country." (Source) It wasn't just about the next generation of consumers, either: there is a new focus on the next generation of builders and tradespeople. From the Young Professional Awards to the networking opportunities, the building industry is inviting the next generation with open arms.
5. Attention to details

The exhibits at IBS featured new ways of adding a designer touch, from rooms that told stories to designer-inspired vent hoods to high-end bathroom drains. There is no part of a build that is insignificant, or that can't be used to add polish to a design.
6. Patterns throughout the home

Patterns: they're not just for wallpaper and curtains any more. Large and small, repeating patterns covered walls, floors, cabinets and doorglass. Consumers and manufacturers alike are having fun injecting personality into every space via patterns.
7. The new design rule: break the rules

Dark walls in a small room? Sure. Mid-century sofa surrounded by traditional crown molding? Love it. The overwhelming message at IBS was that if you like it, use it. Consumers are writing the rules for their own home design, and professionals need to be flexible to keep up.
8. Personal customization

Have it your way isn't just a burger slogan. There have never been more choices for personal customization in home building than there are right now. And it isn't limited to high-end custom builds or luxurious furnishings any more—custom wallpaper designs, tile and fenestration are all within reach for homeowners across the earnings spectrum.
9. A focus on experiences

It's no longer enough for exhibitors to show up and talk about new products. Show attendees had a ton of opportunities to see live demos, watch bite-sized educational talks, win fun contests or snag pictures for the 'Gram in front of the perfect backdrop. Freebies and giveaways large and small are always part of a tradeshow, but this year it seemed that they were around every corner.
Speaking of community involvement, we didn't have nearly enough time to see everything we wanted to, so you tell us - what trends did we miss at IBS?
10. Applying what we've learned

Colors, patterns, technology - we're already there. (We even threw out the infographic rulebook and don't have a #10 trend!) Check out our ODL @ IBS digital experience to see what's happening, or walk through our virtual IBS 2022 booth to check out what we had to offer at the show: