A lot has changed in our lives in just a few weeks. During these times of uncertainty, one thing is for sure—we can all use a little bit of good news. In keep with our commitment to you, we would like to highlight how our employees are Making Lives Better.
Ear Savers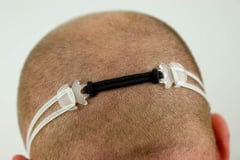 Face masks are ever-present in our world today—medical facilities, work places and other public settings. Those who are required to wear these masks 8+ hours every day to safely do their job are experiencing discomfort from the straps pulling on their ears. ODL team member Todd Schauder connected Steve Schaapman with Oh, Hello Co., a Grand Rapids, Michigan-based company who has been producing ear savers—small, acrylic anchors that connect the ear straps on your face mask behind your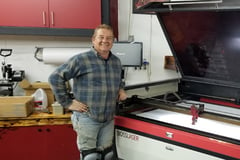 head. Steve and Gerda have given their time, talent and personally donated materials to help in this effort. Alex from Oh, Hello Co. shares that he "…couldn't have done any of the this without Steve."
And when asked who these ear savers are going to, he shared hundreds of comments, including:
"For Samaritans Purse's frontline workers in NY. Thank you." New York, NY (Qty 200)
"Hello! It's for my good friend, Bobbie, who is a surgical nurse. She is literally living at the hospital right now (her husband is in the "vulnerable" group, so she can't go home). She said that her ears and face are killing her from the mask, so I think these ear savers would really help her :-) Thank you!" Pico Rivera, CA (Qty 1)
"Hi Mom! Try these out to help with that uncomfortable mask and hand a few out to your coworkers. :) I love you and miss you! Molly" W Bloomfield, MI (Qty 10)
"I am a nurse in a correctional facility with COVID-19 infection staff and inmates. I hear a lot of complaints about hurting ears and I get migraines from them. Thank you so much for your generosity. Hollie" Windsor Locks, CT (Qty 20)
If you or someone you know needs ear savers, visit Oh, Hello. If you would like to support this effort, here is the link to donate to produce ear savers.
Teaming
In February 2020, talk of COVID-19 was gradually increasing in North American and Europe. Our friends at ODL Asia were staying in place and a group of ODL team members were making plans to help them return to work safely. Part of that plan included buying masks. So, from medical equipment suppliers to auto parts dealers (really!), our Purchasing team in Zeeland, Michigan was buying surgical and N95 masks wherever they could find them and sending them to ODL Asia. As the crisis began to lessen in China and grow in the US, ODL Asia sent those unused masks to the US so we could open safely here.

Talk about teams helping teams.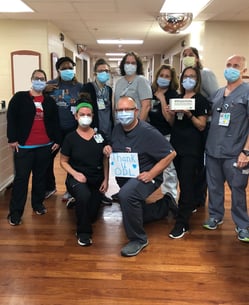 When the CDC recommended the use of cloth masks for non-medical use in the US, the same team that worked so hard to buy these masks began looking for ways to give them away. Knowing our frontline health and safety workers needed the masks we had on-hand, ODL donated 1,000 N95 and 6,000 surgical masks to Holland Hospital in Michigan, and 2,000 surgical masks to Atrium Health-Cabarrus hospital in North Carolina, where our national account manager Brian Goodman's wife Julie works as an RN.
When asked about donating the masks, Kris Busman, Director of Purchasing said, "[The masks] traveled the world to help where they were needed."
That's a bunch of good news in one story!

These are just two of many stories that reflect how much our associates care and have stepped up to make a positive impact on their fellow teammates and the surrounding community. And don't forget, you can still make an impact on your own community by joining our latest campaign to #BrightenYourDoorstep.